Bluestones Medical is delighted to introduce Julie Rogers as our new Clinical Lead!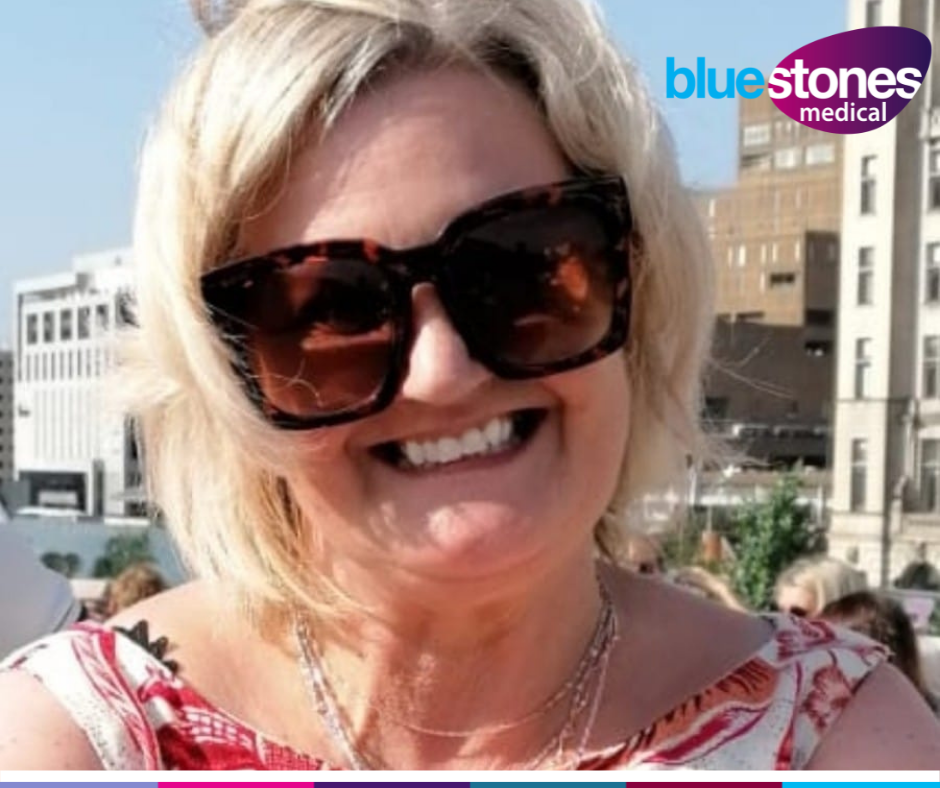 Julie has been representing Bluestones Medical as one of our community nurses for a while now and has built a fantastic relationship with the team.
We saw hiring Julie to be one of our wonderful Clinical Leads as an incredible opportunity not only for the business but for all our Medical Marvels too, as we will all now have access to her amazing skills and expertise.
We asked Julie a few questions so we could get to know her more & here is what she had to say…
Three words to describe yourself?
Tenacious, honest, and compassionate.
What's your favourite film?
Before sunrise.
Who do you admire most and why?
Barack Obama. He is warm, he cares, an amazing orator and leader, and wants to guide people to a better world. He overcame cultural discrimination in the world of American politics to make history.
Name three people you'd invite to a dinner party (alive or dead)
Barack Obama, Nelson Mandala, and Mother Teresa.
What do you do best?
Live my own truth.
What's your pet peeve?
Bad manners.
What's your favourite drink?
A glass of Champagne.
​​​​​​​In your own words, tell us a bit about yourself .
I am a registered nurse with dual clinical experience both in various hospital settings and in the community district nursing teams. My mother was a nurse and my sister is also a Bluestones Medical Nurse.
Compassionate care runs in the family and I can honestly say, that without a doubt, nursing is the most privileged profession in the world.
Recently, I have been appointed clinical lead for Bluestones Medical and work within the office and at home conducting interviews and clinical support. Prior to this, I held various roles with a major high street building society, culminating in the role of district manager, responsible for borrowing and investment targets and staff management of 3 branches.
I was made redundant following the merger and acquisition of various lenders resulting in the building society becoming a major bank. At this point and following another major change in my life, I decided it was 'now or never' and decided to pursue my dream of becoming a Nurse.
I began my training in 2010 and in 2013 I qualified with a 1st Class BSc (Hons) Adult Nursing. For the last 7 years, I have worked full time plus as an agency nurse and feel this has developed my clinical skills, allowing me the opportunity to work in clinical settings, I would not have otherwise been exposed to.
With this amount of experience, it was extremely important to me that I was represented by an agency who had my best interests at heart, who look after and genuinely care about their nurses and are constantly looking to improve and have an open and caring approach with the ever-changing landscape of healthcare.
In taking a current practicing nurse in-house, which is unique amongst agencies, I am able to represent my colleagues and their needs, which prove invaluable for the outstanding service Bluestones Medical offers.
Outside of my working life, I have two daughters aged 23 and 17 whom I am extremely proud of. I also have a Cockapoo puppy named Lola, with the longest eyelashes in the world!!!
She is now 17 weeks old and has brought so much joy to our family. In addition, I also founded and own a business called Essence of Soul which is a real passion for me. It encompasses my life coaching and mentoring services underpinned with holistic modalities and corporate well-being service, all of which is particularly relevant in the last couple of years as the world has edged slowly through a global pandemic, leaving a lot of people lost and searching for meaning.
In what little spare time I have, I enjoy playing golf, theatre and love horse-racing, cricket, rugby, and football.