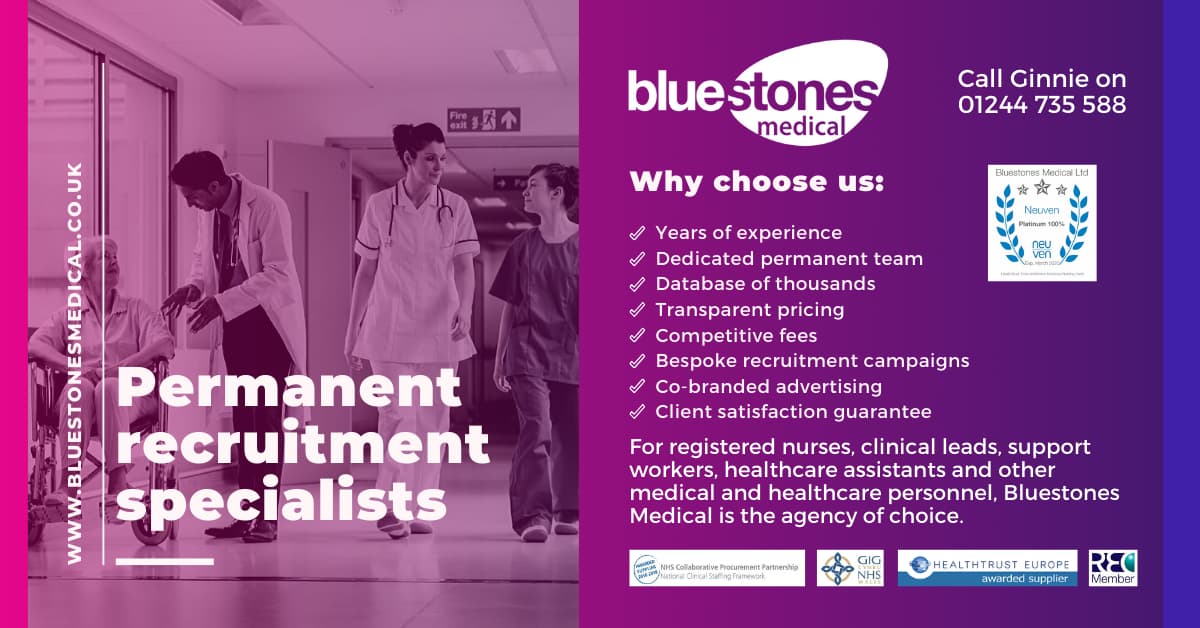 For all your permanent recruitment needs
We recruit for… [typedjs typespeed="40″ startdelay="400″ backdelay="1002″ backspeed="2″ loop="true" cursoe="color:#46186f;"]RGNs + RMNs + RNLDs + HCAs + Support Workers + Senior Practitioners + Clinical Lead + Deputy Manager + Registered Managers + Area Managers + Operations Directors + Pharmacists + Psycotherapists + Physiotherapists + Dentists + Dental Nurses + Social Workers + Disability Assessors[/typedjs]
Bluestones Medical is the permanent recruitment agency of choice for public and private medical and healthcare companies throughout the North West and further afield. As an approved NHS framework provider and a well-established temporary recruitment agency, we have an extensive database of RGNs, RMNs, Healthcare Assistants, Theatre/ODP staff, and general support workers.
We'll save you time and manage the entire recruitment process
CV screening
Candidate chasing
Initial interviews
Compliance assessments
Salary negotiations
Verification of visas or sponsorship and a candidate's right to work in th UK
We'll give you access to more / better candidates
Utilise our existing candidate talent pool built up over years of trading and through a variety of job boards and recruitment tools.
Access to passive candidates that "aren't actively looking" for a new role.
We'll give you market intelligence
With salary benchmarking, interview hints & tips, and recruitment trends – you'll be better informed with us. And we'll use this intelligence to manage higher-performing recruitment campaigns for you.
We'll promote your business
Through dual-branded initiatives we'll support and promote your employer brand, representing you professionally throughout the entire recruitment process.
We'll develop marketing materials – including, but not limited to adverts, leaflets, online microsites – to support your recruitment campaigns.
We'll understand your company culture and ethos – and ensure candidates are fully briefed about what it's like to work with you.
We'll be clear about what we'll do
We'll be professional and honest in all our dealings with you.
We'll allocate a dedicated account manager to oversee your recruitment requirements.
We'll provide transparent pricing and competitive fees.
We work in partnership with our clients, taking the time to understand the specifics of every role we work on, along with the culture and working environment so that when we submit an individual or collate a shortlist for a role, we're confident that we've selected the very best candidates for consideration.
We manage every element of the hiring process, from advertising the role (on the Bluestones Medical website, a range of national and niche job boards, via social media and in relevant trade press/media – as appropriate), to interviewing and assessing compliance, processing applicants and creating a candidate shortlist.
Our headquarters are based in Chester, but our reach is national. Take a look at our locations to see where we're based.
As part of the Bluestones Investment Group, we have access to a national network of recruitment hubs from London to Glasgow.
Our talent pool
Our website consistently attracts a high volume of medical and healthcare professionals; so, along with our extensive portfolio of job boards and talent attraction tools and techniques, and our national network of recruitment and resourcing centres from the Bluestones Group, we've developed an enviable talent pool.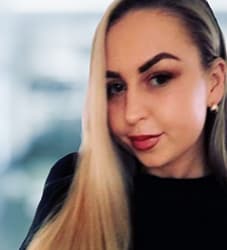 Ginnie
Permanent Recruitment Specialist
I lead the permanent recruitment division at Bluestones Medical. Please contact me for a confidential discussion about how we can help you with your permanent staffing solutions. Call me on 01244 735 588.
If you like what you've seen so far and want to discuss your recruitment support requirements, then please call Ginnie on 01244 735 538 or, alternatively, please submit a vacancy online so our team can begin working on it immediately.
Submit a vacancy now
Simply fill in our simple form and submit a vacancy to the Bluestones Medical team.
[caldera_form id="CF5d1dcdf93946e"]
Permanent jobs
If you're a jobseeker and you're looking for the latest permanent roles we're recruiting for, you're nearly there...
Just click the button to see the current roles we're recruiting for.