Contract
Salary: Starting at £25,000 (uncapped commission)
Website https://twitter.com/bluestonesmed Bluestones Medical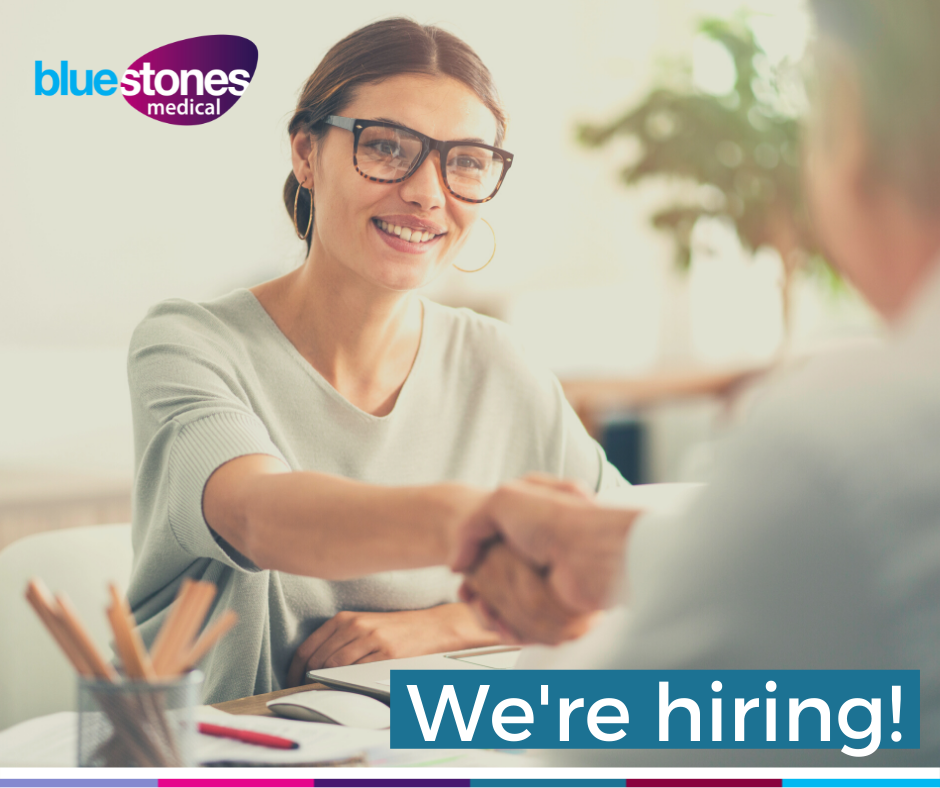 Bluestones Medical is looking to recruit an experienced, highly driven, and hard-working Senior Recruitment Consultant to join our team in Chester, Cheshire.
About us:
Bluestones Medical is a specialist healthcare agency that provides the highest calibre of healthcare staff to NHS and private clients across the UK. Not only is this extremely interesting and NEVER boring, but it also means you will be in a highly rewarding role. Our workforce is made up of talented individuals who are specialists in their field, allowing us to provide the clients we support with the highest standard of candidates. Through our hard work and dedication, we are extremely proud to have been awarded a two-star accreditation in the Best Companies 2021 workplace engagement survey.
Where we are based:
Bluestones Medical is situated in the beautiful city of Chester, on Chester Business Park. The office has an extremely energetic vibe, with music (and sometimes dancing) and you will be working alongside one of our much-loved office Dogs, Freddy!
Your role will include:
Being responsible for managing a select number of existing clients with your primary focus being on maximizing the market share by supplying candidates to work alongside their permanent workforce on a contract basis.
Networking with the hiring community within these clients to ensure we attain all potential business opportunities.
Developing strong relationships and managing the candidate pools. You must be able to provide all our candidates with the highest standard of service to help support us in becoming the leading healthcare staffing provider.
You will never be alone in your journey, we have several support teams, whose role is to allow you to focus solely on placing your candidates, nurturing your relationships, and making commission, they will take care of the rest.
Attracting and maintaining a candidate database.
Becoming a specialist in your field, which in this case will be mental health recruitment. You will be passionate about the industry and become our expert in the mental health sector working as part of our specialist team.
Play a key role in supporting the specialist team in achieving business goals and targets.
The ideal candidate:
Experience within this sector would be preferred but is not compulsory.
A strong and proven track record in sales, networking and/or client development abilities.
Excellent time management and organisational skills.
Ability to mentor and support specialist consultants.
Strong commercial business acumen.
A passionate desire to succeed and build a successful career.
A winning mentality.
The ability to overcome objections and be persistent.
A genuine passion for the healthcare industry and supporting the personal and professional development of our healthcare professionals.
Benefits of working for BSM:
Competitive basic salary plus uncapped commission structure.
Career progression is completely based on performance.
Flexible working model – work 3 days in the office, and 2 from home following a successful probation period.
Work phone and laptop.
Perkbox membership – giving you access to hundreds of discounts, cashback, and giveaways.
Healthcare, dental, and optical cover.
Day off on your birthday.
Charity day – take one day a year to give your time to a charity.
Counselling – financial, personal, whatever you need. We value the people that work for us and their overall health.
At Bluestones Medical, we pride ourselves on playing to people's strengths. Having our support teams in place means you will never feel overwhelmed with a heavy workload, allowing you to do what you do best and that is being a recruiter. All we want from you is to maximize our client and candidate opportunities.
If you're interested in this role, please contact Rachael Pilkington at rachael.pilkington@bluestonesmedical.co.uk or drop her a message on 07387 133 840
---
perkbox

is now available for Bluestones Medical workers.

Click the banner below to find out more...