Bluestones Medical is a specialist healthcare agency that provides the highest calibre of healthcare staff to NHS and private clients across the UK.
The Bluestones Medical team is made up of individuals with unrivalled experience within the specialisms we recruit for. These are:
General nursing
Community nursing
Mental health
Theatres
Complex care
We are extremely proud to be an NHS England and Wales approved framework nursing and healthcare agency. Each day, we support many public and private sector organisations to find the very best healthcare workers, ensuring their patients can receive the very best care. We do this by attracting and nurturing highly skilled and dedicated candidates and ensuring that we are continuously supporting their career development through continuous training and support.
A message from our Managing Director, Darren Logue
"What makes my team at Bluestones Medical unique, within such a crowded marketplace, is the compassion, expertise, and selflessness that is applied daily in all they do.
Our candidates are nothing short of inspirational – and we can never thank them enough for the unique imprint they leave on the lives they change, save and touch daily.
Working within nursing and healthcare recruitment is more of a vocation than a job – and one my team and I at Bluestones Medical are extremely proud to do."
---
Testimonials
We could talk all day about why we think we're so great, but we're biased. Therefore, we will let some of our candidates do that for us. Scroll through the testimonials below to see what some of our candidates from our different specialisms had to say about us.
I have worked for Bluestones Medical for 5 months. I have had great support off everyone that works there, they are all very friendly and I find that I can talk to them about anything. They are very professional as well as very approachable and always have a friendly ear if needed. However, they always ensure that they uphold a professional status also. I recommend the company to many people I come across and thank them for everything that they do. Fantastic company to work for.
Working for Bluestones Medical has changed my life. It has given me far more confidence as a nurse. I work on many different wards, in different hospitals with different people. I wish I had joined sooner! I was quite nervous doing my first agency shift, but the staff at BSM helped me along and I realised after my first shift, I had no reason to feel nervous. The pay is great and it was really easy and quick to join. The team made it so easy. My main reason for enjoying working for BSM is the guys in the office. They almost feel like part of my family as I speak to them so often. They are so always so willing to help with a query and always have time for you. I implore anybody and everybody to join this agency, as they have really changed my life – for the better!
Each shift I work (over various locations) there appears to be more 'Bluestones' staff. It is a pleasure to work with these lovely colleagues and to work for a caring, professional committed nursing agency .
I've been with Bluestones for a while now. They're always positive and flexible with the shift that I want. Staff are very approachable and friendly.
I have worked for 3.5 years with Bluestones Medical. I have found them to be supportive and very helpful. Communication has been excellent and they have been flexible when needed. I have found all staff there to be pleasant, professional, accommodating and understanding. Thank you for making my experience working here enjoyable.
I've worked at Bluestones Medical as a mental health nurse for a while now and I have to say it's been a really enjoyable experience. I have never been without work and the staff are so approachable, there is really a sense of consideration and thought for their staff. The flexibility and autonomy I have over my working hours and shift pattern is second to none. It's been a pleasure working with you guys at Bluestones!
I have worked for quite a few agencies over the years, but since I started working for Bluestones Medical things have really changed for the better. They are very professional and always make sure that I am well looked after and feel confident in my work. They also ensure I have all the necessary training and qualifications to complete my role to a high standard. On a personal note, they are very welcoming and will always call you to receive feedback on your work how you are finding the shifts – which always feels great. I would always recommend them and believe they are on of the best in the industry.
I have worked for Bluestones Medical for 4+ years and I have always managed to get the shifts I have wanted, in the trusts which I choose. I work with a friendly fulfilment team which always help with my needs. I find the Sirenum app very handy and flexible. I am 100% happy with Bluestones Medical and I have never had a reason to change agency.
Very supportive and friendly staff.
It's only been a few weeks but so far my experience working for Bluestone's has been really positive. The staff are really helpful and friendly, and always at the end of the phone (especially Natasha). I was worried about leaving my old job but so far it's been the best decision I have made. The shifts work around my family and I can choose when and where I want to work. Definitely the right decision for me x
After being block-booked in a nursing home for three and a half years, I decided I wanted to go back into hospital work. I was very nervous, as I had been off the ward for a while and know how quickly things move forward and change clinically! I want to thank Lee and all the team at Bluestones medical for the smooth transition and all your support. The ongoing excellent training I have received from Bluestones medical has helped me to keep my skills up-to-date, keeping me competent and I am thoroughly enjoying my new shifts.  Again thank you all, I feel so proud and honored to work for an amazing agency.
I've been a Theatre Recovery Nurse with Bluestones now for several years and have never felt the need to change agency.
They are friendly and professional and I've always felt they will listen to any concerns I might have. A great team!
I have worked for Bluestones Medical for many years now as a theatre scrub nurse. I have always been very well looked after in my placements with good rates of pay. They provide organised mandatory training and offer freedom and flexibility of working. They are a very professional, friendly, and supportive agency who have always listened if I have had any concerns and have helped were necessary. So, thank you to all at Bluestones, it is a pleasure to work with and for you.
Bluestones Medical has changed my life! They offer a competitive pay rate which has certainly improved my quality of life and all the staff are friendly and approachable, particularly if you have a problem. They really do work hard for me and try to always fulfil my shift requests.
Our values
Here at Bluestones Medical, we live and breathe our values. We ensure that we incorporate them into everything that we do, whether that be with our internal team, clients, or our candidates. Our values are…
Teamwork
Whether you work internally or externally for Bluestones Medical – we are a team and together, we are better. With this, we ensure that no matter what your role is, there will always be someone, somewhere to support, listen and lift you – whenever you need it.
Humility 
We are always open to feedback and constructive criticism. We show respect and always recognise the roles and contributions of others.
Passion
A passion to change lives and save lives is a must for anyone working for Bluestones Medical. We put that passion into every hour we fill, every contract we place a candidate in, and the care plans we facilitate.
Trust
Bluestones Medical will always remain transparent and honest when it comes to our relationships and transactions with our employees, candidates, and clients. This trust is extended to anyone that works with or alongside Bluestones Medical through a trusted advisory approach. We do right by all our partnerships, whatever the relationship may be.
Innovation
Bluestones Medical will always strive to develop and implement new products, processes, or services, with the aim of improving efficiency, effectiveness, and competitive advantage.
What we do for our candidates
Everything we do makes a difference, and this is our mantra at Bluestones Medical. We understand that the work that we do influences everything from the quality of the care that patients receive, the career progression and satisfaction of our candidates, and how well the NHS Trusts we work with can run their hospitals. Therefore, we take our role extremely seriously.
The entire Bluestones Medical team are passionate about identifying the most highly skilled, caring, and compassionate candidates to represent us and work across our clients. However, something that is of equal importance to us is providing our candidates with the very best service. We do this by nurturing our relationships, providing them with flexible working to suit them, offering them the opportunity to upskill and expand upon their experience, and providing them with excellent perks, benefits, and rewards.
We understand that becoming an agency nurse or healthcare worker can be daunting. Therefore, we asked some of our wonderful Medical Marvels to answer some questions that should put you at ease. You can view these HERE.
The Bluestones Medical team is made up of the most enthusiastic, dedicated, and hardworking individuals that also happen to be experts within the specialisms they work with. We understand that individual commitment to a group effort is what makes a team work, and so working collectively together to provide our candidates with the best possible service is a priority for us all.
The Bluestones Medical team includes:
Senior leadership team
Specialist consultants
Candidate development team
Payroll team
Compliance team
Fulfilment team
Marketing team
What we offer our candidates
Excellent pay rates
Access to industry-leading and accredited training
Unrivalled support from a team of experts
1-2-1 revalidation support
Access to the best permanent and temporary roles
The choice of contracts or shift work
The ability to book shifts, view timesheets and compliance via our app, Sirenum
Free Perkbox subscription giving you access to hundreds of discounts, cashback and more!
We will support you to arrange travel and finding accommodation (if applicable)
Faster pay through a range of payment options including PAYE and approved umbrella companies
A promise from us to you that we will give our all to support you and your career goals and aspirations
Click to see the benefits of working with Bluestones Medical
How we work with our clients
At Bluestones Medical, we create bespoke recruitment solutions for our clients across our chosen specialisms. Ensuring that we provide our clients with an impeccable service is of upmost importance to us. We dedicate time to fully understand your business, the type of employees you require, your culture and your values. We pride ourselves on providing our clients with the highest calibre of candidates who can deliver the highest standard of patient care and clinical safety.
We are very aware that our clients have access to many nursing and healthcare recruitment providers. However, by choosing to work with Bluestones Medical, you are supporting our mission to make a difference to the lives of those who need it the most. When you chose Bluestones Medical as your healthcare staffing provider, you are choosing a recruitment partner, who holds your best interests close, works hard to relieve some of the issues you face, and will support you to be better and achieve your goals, in the most cost-effective way possible.
If you would like to find out more about how we can support your staffing needs, please leave your details on this form, and a member of our specialist recruitment team will be in touch.
What this means for our clients
Bluestones Medical is proud to be an approved supplier to the NHS. Our reputation has resulted in us holding contracts with major healthcare staffing frameworks, private and NHS trusts. Our goal is to utilise our extensive resources, from our team of industry experts to the incredible technology we have invested in to attract the highest calibre of candidates to serve your business. We do not just stop there. We will continuously seek to develop these candidates to ensure they of a standard that your business deserves. Nothing will ever be too much trouble and we will always work hard to serve your needs.
By choosing to use Bluestones Medical as your staffing provider, you will receive:
A compliant and highly competent workforce
The most cost-effective recruitment solutions
Access to industry leading technology
A responsive and reliable, around the clock recruitment service
Access to industry specialists and niche experts
Clear, open, and honest communication
A commitment from us to work with you to help you achieve your goals and aspirations
We have two primary recruitment hubs in the UK. Our head office based in Chester, Cheshire, is responsible for looking after healthcare recruitment for the North of the country. Our office based in Sorth Wales, therefore, looks after the south.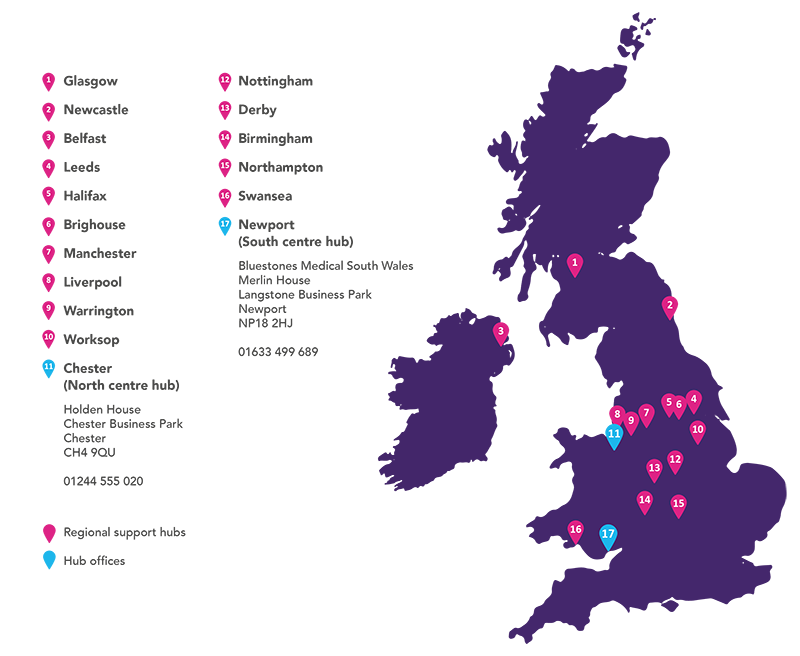 In addition to our specialist recruitment hubs, we utilise the full recruitment network of our parent company – Bluestones Investment Group, and its portfolio of recruitment businesses and 19 recruitment offices across the UK to provide a genuine national recruitment capability.
Careers at Bluestones Medical
If you are looking to become a member of the Bluestones Medical recruitment workforce, please register your details below. We are always interested in hearing from experienced recruiters that want to join our specialist recruitment teams.