The Bluestones Medical team is made up of experienced in-house General Nurses, Social Workers, Operating Department Practitioners, Community Nurses, Mental Health Nurses and experienced Recruitment Professionals.
We are unique in our commitment to delivering the highest quality service by placing the best people – by people who know our specialisms best.
We are proud to be an NHS England and NHS Wales approved Framework Nursing and Healthcare agency.
We support many Public and Private Sector organisations by placing Registered General Nurses, Operating Department Practitioners, Allied Health Professionals, Community Nurses, Mental Health Nurses and Social Workers into temporary, permanent and contract roles.
Through attracting and nurturing the best people, we help our clients deliver the best compassionate care.
What makes my team at Bluestones Medical unique, within such a crowded market place, is the compassion, expertise and selflessness that is applied daily in all they do.

Our candidates are nothing short of inspirational – and we can never thank them enough for the unique imprint they leave on the lives they change, save and touch daily.

Working within Nursing and Healthcare Recruitment is more of a vocation than a job – and one my team and I at Bluestones Medical are extremely proud to do.
Darren Logue, MD of Bluestones Medical
---
Testimonials
Don't just take our word for it… see what some of our lovely candidates and clients have to say about us.
Working for Bluestones Medical has changed my life. It has given me far more confidence as a nurse. I work on many different wards, in different hospitals with different people. I wish I had joined sooner! I was quite nervous doing my first agency shift, but the staff at BSM helped me along and I realised after my first shift, I had no reason to feel nervous. The pay is great and it was really easy and quick to join. The team made it so easy. My main reason for enjoying working for BSM is the guys in the office. They almost feel like part of my family as I speak to them so often. They are so always so willing to help with a query and always have time for you. I implore anybody and everybody to join this agency, as they have really changed my life – for the better!
I've been with Bluestones for a while now. They're always positive and flexible with the shift that I want. Staff are very approachable and friendly.
I have worked for Bluestones Medical for many years now as a theatre scrub nurse. I have always been very well looked after in my placements with good rates of pay. They provide organised mandatory training and offer freedom and flexibility of working. They are a very professional, friendly, and supportive agency who have always listened if I have had any concerns and have helped were necessary. So, thank you to all at Bluestones, it is a pleasure to work with and for you.
I'm new to Bluestones and was recommended by a friend.
Hannah has been great, guiding me every step of the way through registration, checking in on me to make sure I was alright, tailoring jobs to suit my needs, and always keeping the lines of communication open.
Helpful, kind and professional it's always a pleasure to deal with her
Hannah has been my port of contact since starting. The application process was smooth and fast. Hannah has a friendly approach that makes you feel you've known her much longer. She makes regular contact between and during shifts to make sure that I'm treated well and I have no concerns.
Bluestones is additional work for me but since the beginning no matter how many hours I complete Hannah makes me feel like I'm a part of the team.
Each shift I work (over various locations) there appears to be more 'Bluestones' staff. It is a pleasure to work with these lovely colleagues and to work for a caring, professional committed nursing agency .
Bluestones Medical is one of the best companies i have ever worked with, very convenient when it comes to giving shifts there is always a variety of work. Their staff in the office are so amazing, very supportive, professional and very friendly I tell everyone about them and have recommended people already Bluestones Medical 1 – Other nursing agencies 0.
Very supportive and friendly staff.
I have worked for quite a few agencies over the years, but since I started working for Bluestones Medical things have really changed for the better. They are very professional and always make sure that I am well looked after and feel confident in my work. They also ensure I have all the necessary training and qualifications to complete my role to a high standard. On a personal note, they are very welcoming and will always call you to receive feedback on your work how you are finding the shifts – which always feels great. I would always recommend them and believe they are on of the best in the industry.
I have worked for Bluestones Medical for 4+ years and I have always managed to get the shifts I have wanted, in the trusts which I choose. I work with a friendly fulfilment team which always help with my needs. I find the Sirenum app very handy and flexible. I am 100% happy with Bluestones Medical and I have never had a reason to change agency.
I have worked for 3.5 years with Bluestones Medical. I have found them to be supportive and very helpful. Communication has been excellent and they have been flexible when needed. I have found all staff there to be pleasant, professional, accommodating and understanding. Thank you for making my experience working here enjoyable.
Bluestones Medical has changed my life! They offer a competitive pay rate which has certainly improved my quality of life and all the staff are friendly and approachable, particularly if you have a problem. They really do work hard for me and try to always fulfil my shift requests.
I have worked for Bluestones Medical for 5 months. I have had great support off everyone that works there, they are all very friendly and I find that I can talk to them about anything. They are very professional as well as very approachable and always have a friendly ear if needed. However, they always ensure that they uphold a professional status also. I recommend the company to many people I come across and thank them for everything that they do. Fantastic company to work for.
It's only been a few weeks but so far my experience working for Bluestone's has been really positive. The staff are really helpful and friendly, and always at the end of the phone (especially Natasha). I was worried about leaving my old job but so far it's been the best decision I have made. The shifts work around my family and I can choose when and where I want to work. Definitely the right decision for me x
I've been a Theatre Recovery Nurse with Bluestones now for several years and have never felt the need to change agency.
They are friendly and professional and I've always felt they will listen to any concerns I might have. A great team!
I've worked at Bluestones Medical as a mental health nurse for a while now and I have to say it's been a really enjoyable experience. I have never been without work and the staff are so approachable, there is really a sense of consideration and thought for their staff. The flexibility and autonomy I have over my working hours and shift pattern is second to none. It's been a pleasure working with you guys at Bluestones!
What we do for our candidates
Everything we do makes a difference – this is our matra at Bluestones Medical. Therefore it is imperative to continuously identify highly-skilled, caring and compassionate candidates to work across our clients.
In return, we continually support our candidates in achieving their professional aspirations – nurturing them to deliver the highest levels of patient-centred care in a safe and complaint way.
Our in house team at Bluestones Medical come from specialist healthcare backgrounds. They have the insight and expertise ,through personal industry experience, to really listen to what our candidates need and want.
We are only as good as the care that we give, we need to offer our candidates the best development opportunities that the Nursing and Healthcare Industry have to offer. We have carefully chosen the specialisms we supply to – because of this, we have the expertise we need, to ensure we can support our candidates to do better and be better.
What we offer our candidates:
The best Nursing and Healthcare opportunities in line with your career aspirations.
Access to industry-leading and accredited training.
Open and honest communication and feedback.
Rewards for recommending colleagues and friends.
A reputable brand, with a track record for delivering exceptional care and customer service.
Access to new technology that keeps you in control of what you want, when you want it.
From your initial contact with a consultant through to your shift, placement, contract and beyond. You'll have the advantage of the Bluestones Medical team's knowledge and expertise anytime you need it.
Most importantly – An appreciation and thank you for the hard work you do.
If you want to make a difference, just by being you, come and join the Bluestones Medical team today. Make a start and contact us or request a call back and one of our specialists will be in touch.
How we work with our clients
Bluestones Medical create bespoke recruitment solutions for our clients across our chosen specialisms.
We pride ourself on the providing candidates, to our clients, who deliver the highest standards of patient care and clinical safety.
We know our clients have access to many Nursing and Healthcare Recruitment providers – but by choosing to work with Bluestones Medical, you help us continue our mission to make a difference in as many lives as we can. You select a Nursing and Healthcare Recruitment Partner – who holds what you do close and responds with recruitment solutions that help you do better and be better, in the most cost-effective way.
Please leave your details on this form, and one of Nursing and Healthcare Recruitment Specialists will be in touch.
What this means for our clients:
That we place compliant and highly competent people – who want to make a difference in the lives they touch.
That we will work with our clients to achieve the best cost-effective recruitment solutions.
That we have the best workforce technology – ensuring we are easy to work and cost-effective.
That we guarantee a responsive and reliable – around the clock recruitment service.
That we provide access to industry experts and niche specialists.
That we instill confidence with the expertise and ability of our team.
That we ensure open and honest communication and feedback.
That we commit to providing the highest quality care and standards of service.
That we listen to understand – and work with our clients to achieve their aspirations and goals.
We have two primary recruitment hubs in the UK. Our head office in Chester looks after the North of the country, whilst our other regional hub in South Wales, looks after the South.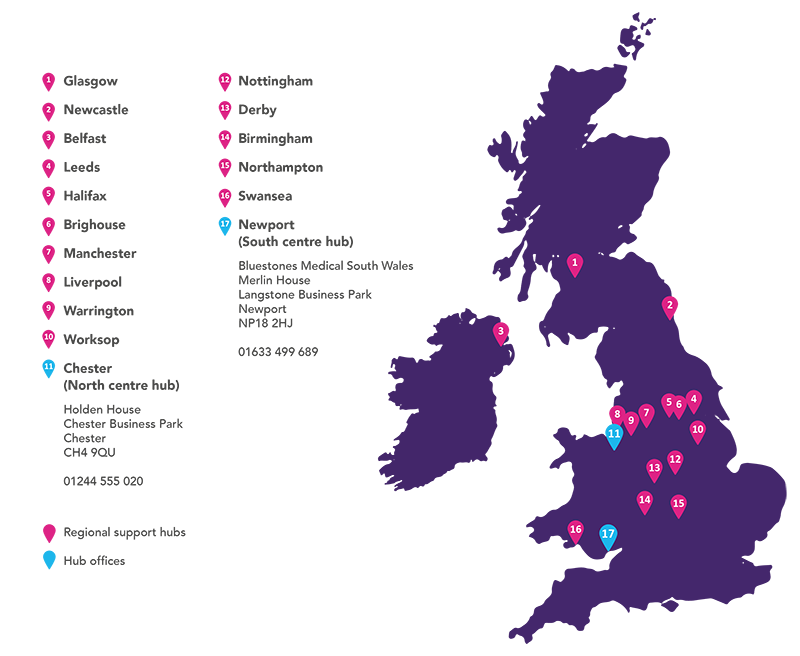 In addition to our specialist medical recruitment hubs, we utilise the full recruitment network of our parent company – Bluestones Investment Group – and its portfolio of recruitment businesses and 19 recruitment offices across the UK to provide a genuine national recruitment capability.
Careers at Bluestones Medical
If you're interested in working for us as a healthcare professional, then please REGISTER HERE.
However, if you're interested in working for us as part of our recruitment and workforce support team, then please register your details using the form on this page.
We're always interested in hearing from experienced recruiters that want to join our specialist recruitment teams.