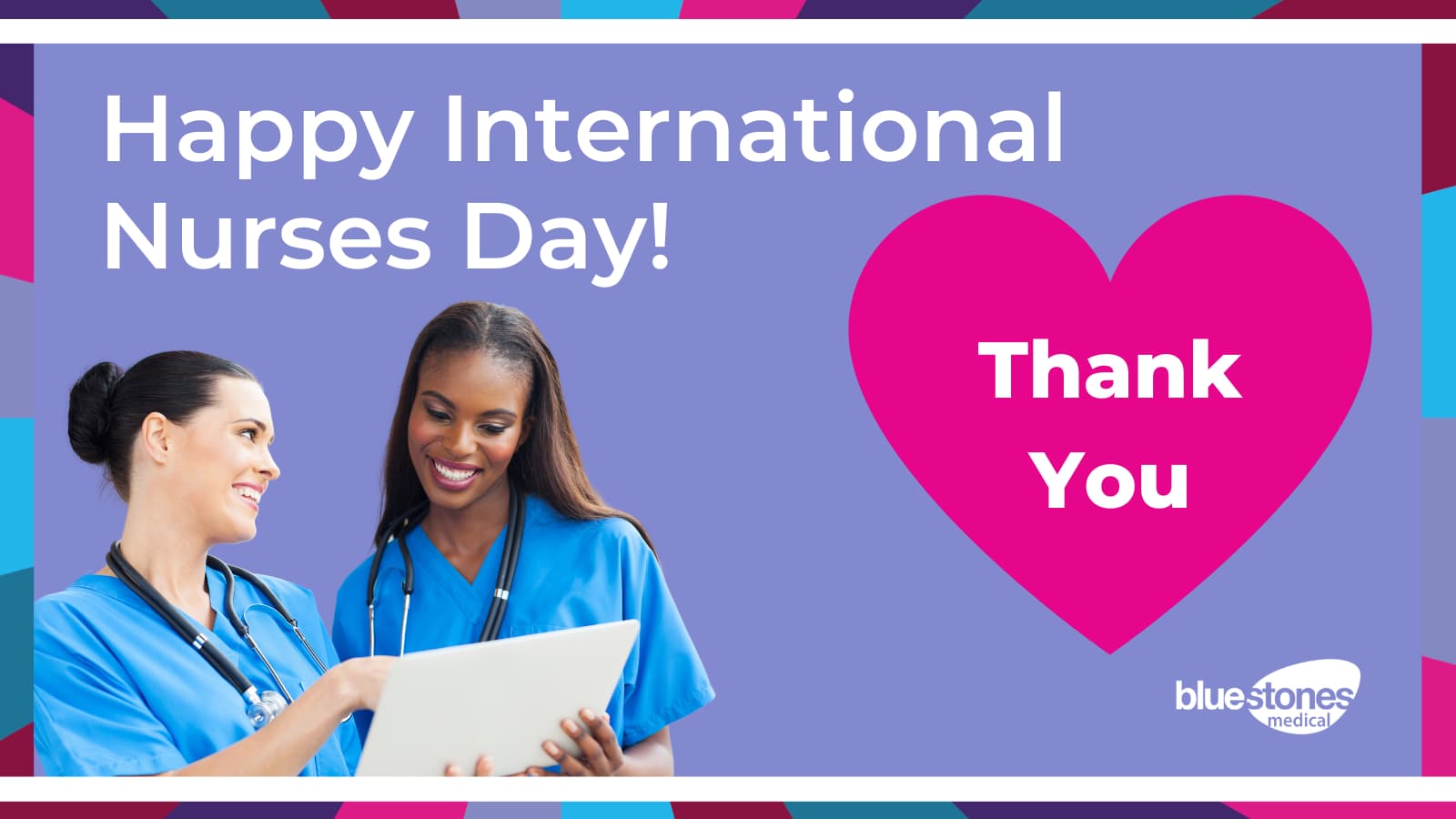 Wednesday 12th May 2021 marks International Nurses Day.
This day allows us to celebrate nurses and healthcare workers all over the world. This past year more than ever before, healthcare staff working on the frontline during the pandemic have shattered the stereotypes of nursing and demonstrated to the world the fundamental role they play in patients' safety.
International Nurses Day is an extremely important date in the Bluestones Medical calendar. It allows us to say thanks and show our appreciation to the healthcare staff that we work with every day. We have spoken many times before about the importance of frontline workers which you can read here.
How we're celebrating
To celebrate, we thought we would host a competition on our official Facebook and Instagram pages, giving nurses and healthcare workers the opportunity to win X2 £250 vouchers! We also videoed some of the team talking about why they are grateful for nurses and healthcare workers, and why they love working with them so much.
The world would be lost without nurses!
Since the Crimean war in 1853, nurses like Florence Nightingale and Mary Seacole have been at the forefront of caring for patients in difficult and trying situations. These nursing pioneers helped showcase to the world how critically important nurses and healthcare workers are and today's nurses are doing the same thing. In the last year, not only have nurses and healthcare workers been responsible for saving countless amounts of lives, but they have also had to take on the role of caring for people in situations where family and friends cannot be close because of the virus and risk of infection.
Bluestones Medical would like to say thanks
The selflessness, courage, compassion, and dedication of the Bluestones Medical candidates is something that amazes us each day. How amazing is it for us that the work we do to support the careers and wellbeing of our candidates helps them to provide the best possible care for their patients. What an amazing incentive to ensure that we are constantly giving our all, working hard and feeling passionate about what we do.
So today, on International Nurses Day, we would like to say thank you to every nurse and healthcare worker who works tirelessly to improve the lives of others. The Bluestone Medical team will be using today to reflect on what you do and how grateful we are for your dedication and kindness.
We also encourage all nurses and healthcare workers to use today to reflect. Reflect on what they have been through this past year, the lessons they have learnt, the lives they have enriched and the fact that without them, the world would not have been able to make it through this last year. If they did not realise how important they were to society before, they certainly should now. You can read our blog on the importance of reflection for nurses here.
Happy International Nurses Day! We hope your day is a special one and you get recognised and spoilt just like you deserve to.
The promoter is Bluestones Medical whose registered office is Bluestones Medical, Holden House, Chester Business Park, Chester CH4 9QU
Promotion is open to anyone aged 18 or over, excluding employees of Bluestones Medical
Promotion runs from 08:00 Local Time 12th May 2021 to 17:00 Local Time 17th May 2021
Entries to be made through official Bluestones Medical Facebook or Instagram pages by liking and commenting on selected posts
A winner will be chosen at random
The winner will be contacted within 48 hours of the competition closing
The winner must be able to provide us with the healthcare worker they tagged to win the competition details (full name, address, phone number and email address)
If the winner cannot be contacted or does not claim the prize within 2 working days, Bluestones Medical reserves the right to withdraw the prize from the winner and pick a replacement winner
Prizes to be awarded are as follows:
X2 £250 shopping vouchers
Prizes are non-transferable and there is no cash alternative
Bluestones Medical reserves the right to substitute prizes of equal or greater value at any time
Bluestones Medical reserves the right to change, amend or cancel the promotion at any time and will be effective immediately upon posting to this webpage
By entering the competition, an entrant is indicating his/her agreement to be bound by these terms and conditions
The competition and these terms and conditions will be governed by English law and any disputes will be subject to the exclusive jurisdiction of the courts of England