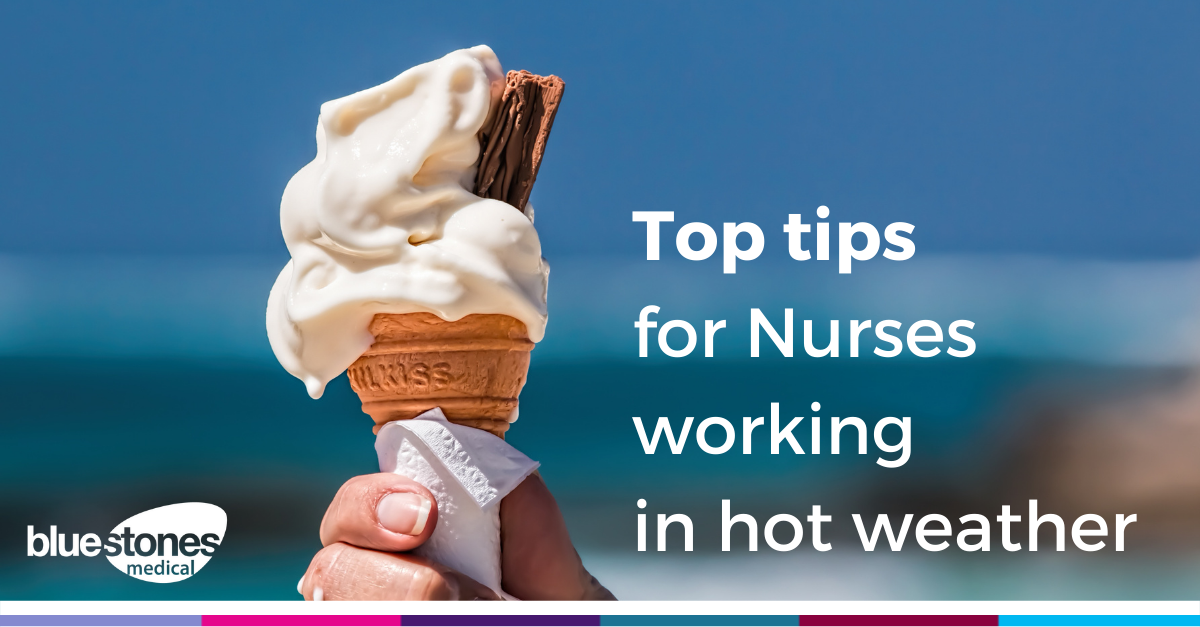 Temperatures are set to soar over the next few days, and this is something that most people will welcome with open arms. However, as lovely as this might be, it can pose a real threat for both patients and healthcare professionals. With the risk of dehydration and heatstroke, we thought it might be helpful to put together some top tips for healthcare professionals working in the hot weather.
We asked some of the fantastic nurses that work with Bluestones Medical for their top tips for working in hot weather and here is what they had to say…
Stay out of the sun
The temperature tends to be the highest between 11-4, meaning that you are most likely to get heat stroke at this time of the day. Our nurses have advised to stay indoors if you can during this time (preferably in front of a fan!). They also said to drink plenty of water before and after your shifts.
Say no to coffee (as difficult as this may be)
Coffee is known for having a diuretic effect. This can result in extra water loss and then dehydration which can be even more dangerous in the hot weather. On hot days, try to stick to drinking water or squash. You could even try an energy drink if you need a little energy boost.
Cool yourself down
A couple of our nurses mentioned that running your wrists under cold water for 30 seconds each is a great quick fix for when you are feeling a little too warm. As a nurse, you will be washing your hands a lot during a shift. Try this trick at the same time and it should lower the temperature of the blood in your wrists and arms. As a result, this will then recirculate into the rest of your body and help you to cool down.
Plan ahead
Be sure to bring plenty of your favourite soft drinks with you to your shifts and pop them in the fridge. If you make these readily available to you, you are much more likely to stop and enjoy them. You could even keep a big jug of water in the fridge for your colleagues to enjoy too! You are fantastic at caring for others but be sure to care for yourself too!
TAKE YOUR BREAKS
Finally, be sure you are taking your breaks. Being a nurse is exhausting at the best of times, but even more so in the hot weather! Try your best to find somewhere cool and ventilated and sit down with one of those drinks you cleverly remembered to put into the fridge.
Thank you…
Whilst everyone is out enjoying the sunshine, we will not forget about you working in the heat to care for others. We hope that these top tips help make your shift a little easier and please remember to look after yourself too!
Please keep up to date with everything we get up to at Bluestones Medical by liking/following us on our Facebook, Twitter, Instagram, and LinkedIn pages.
You can view all our jobs HERE and if you would like to join us, please give us a call on 01244 555 020. We would love to hear from you.