We are extremely proud of the success that our mental health division has seen in recent months. The team has been working incredibly hard to grow the division and it appears that their hard work is paying off for them!
With growth and success comes an increased demand for our service. The clients we work with trust that we will only supply them with the highest calibre of mental health staff. Therefore, we are looking to grow the number of Bluestones Medical mental health candidates. In turn, this will ensure we keep going from strength to strength and can continue to supply our clients with candidates of such calibre.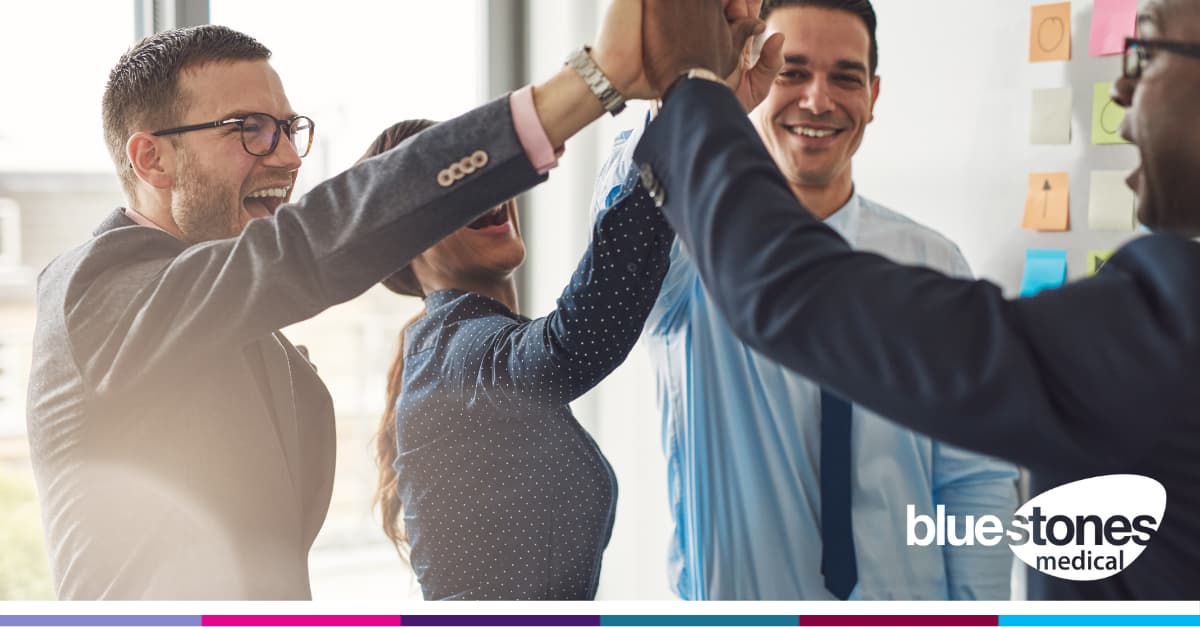 About the Bluestones Medical mental health division
Our business manager, Rachael Pilkington, has been responsible for leading, supporting, and nurturing the mental health division which has evidently helped to secure its recent success. Rachael has been recruiting within this industry since 2014 and her passion and knowledge surrounding the mental health industry is second to none. Therefore, if you join the Bluestones Medical mental health team, you can feel confident that you're in the safest possible hands and we are sure the existing members of the team will back us up with that.
About Rachael…
Rachael began her career in health and social care in 2008, where she worked for an organisation that supported young people leaving care. It was here that sparked the catalyst for her passion for healthcare, particularly supporting vulnerable people that required compassion, support and professional intervention.
Fast-forwarding to 2014, Rachael made the career move into mental health recruitment and found that being in a role that meant she could better the lives of others, whilst supporting people find a role they love, was what drove her success. Rachael said; "mental health is a cause that I am very passionate about on a personal and professional level and I would not want to spend my days working in anything else".
She continued: "I aim each day to support these services and my candidates the best way that I can, building relationships, supporting with consistency in this complex sector and supporting in meeting the needs of the service users which is paramount to anything else".
Being in the industry for over 6 years, Rachael says that she is still shocked at the stigma that is attached to mental health. The lack of resources and services for people who are suffering is still apparent and a massive concern; even more so with the increasing referral numbers to services due to the pandemic. Rachael quoted "If I can make a difference doing what I do as Business Manager for Bluestone Medical's mental health division, I will always go home feeling as though I have achieved something great by using my knowledge and drive to help those in need the most.
Candidate testimonial
"I have worked with many agencies before I come to join Bluestones Medical, and since I started with them I have seen that there are animals in the jungle and there is the lion. To the best of my knowledge Bluestones is the lion in the jungle, they are the king in agency and temporary staffing business. Bluestones is reliable, they have one of the best customer service I have ever experienced from an agency company, their office staff are brilliant."
"Having Rachael Pilkington as my consultant has been one of the best things that has happened to me as an agency employee. She is always there to answer any questions and solve any problems presented to her. Moreover, she will always make a huge effort to secure shifts for staff which is all agency staff need. I will encourage anyone to give Bluestones Medical a trial. It worked for me I believe it will work for you." – Celestine
Joining Bluestones Medical
If you work within mental health and would like to enjoy all the benefits that come with being an agency worker, Bluestones Medical would feel privileged to have you on board with us.
With Rachael's unrivalled knowledge and experience of the sector, you couldn't be in safer hands to help develop your career, whilst offering you a flexible work schedule to suit you and your individual needs.
There has never been a more exciting time to join Bluestones Medical. Our promise to you is that we'll make it our priority to:
Build a positive and strong relationship with you
Understand your individual needs and expectations
Offer you incredibly competitive pay rates
Provide you with consistent, unrivalled support
Support your career progression
Provide you with opportunities to expand your experience
So, if you're considering becoming an agency mental health practitioner, or think you'd like to switch agencies, call Rachael today on 01244 555 020 or you can email her at rachael.pilkington@bluestonesmedical.co.uk. She will be delighted to talk you through your opportunities, what Bluestones Medical can offer you, and hopefully get the ball rolling for what will be a long, happy and positive relationship with you.
For more information on the Bluestones Medical mental health division, click here.